If you're looking to break tradition and not break your piggy bank, consider using non-floral arrangements. Using fruit creatively or items of great sentiment to you and your fiance, such as books (see
SpeakQuietly
above), can be really fun!
Check these out:
Citrus Centerpiece
Lemons and grapefruits tied in yellow taffeta ribbons and piled into a glass compote make a bright, casual arrangement. The bows are secured by pins, and sheer yellow organdy drapes from the bowl. A coordinating menu card is trimmed with taffeta ribbon.
Cloche Jars with Birds' Nests | Bridal Inquirer Blog
I am a fan of dainty birds' nests in bell jars, but you don't have to limit yourself! I bought a couple cloche bell jars from A Tail of the Yak in Berkeley and have used them to display seashell ornaments to my View Master.
The Pissed Off Bride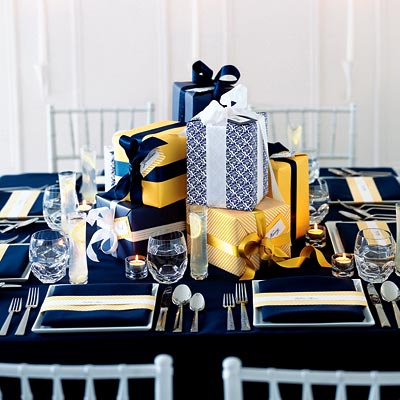 Theresa Glen Photography as seen on eHow.com
To accomplish this look, I suggest first going to TJ Maxx or Ross and finding birdcages in their home accessories section. I've seen birdcages as low as $14.99.
Save on Crafts.com also has 2 for $19.99>>