As I mentioned, I attended a Young Women and Money Conference last week. Julie Asti, Certified Financial Planner (CFP), presented a very informative workshop called "What to do before I say I do." I asked her a few questions so that you'd get to know the expert behind the advice and also get a feel for some questions you might want to ask when searching for a CFP to work with (particularly their process, fee policy and certification).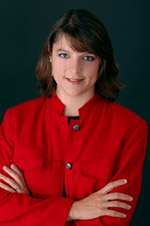 1) How did you get started?
I got interested in Finance and Investing way back when I first started college as a freshman after NO previous interest in business at all. I'll be honest, initially it was the lure of big money that got me interested. I decided to major in Finance, Banking and Real Estate and started my career working in financial services. Early on I learned that this career was also personally beneficial – I was learning all there was to know about investing which helped my own financial situation. I worked for really small investment firms, dot com investment firms and really large investment firms and I've loved it all.

2) What do you love most about your job?

I love sharing my knowledge to help other people. I tell people that this is not rocket science, but it is hard and takes time. When I meet with someone, their situation is like a Rubik's cube to me. I like to analyze their situation to come up with the best advice for their situation and goals. And it is entirely fulfilling to present a plan to someone and see the relief they experience knowing they've gotten their situation under control and a solid plan to move them forward.

3) Why should couples consider working with a financial planner?

Couples should definitely do some research before they consider working with a financial planner. The first thing they need to do is talk to each other to see what their goals are and what they'd like to accomplish in working with a planner. I can help them solidify that, but they should be on the same page in coming to see me. With the internet, it is easier than ever to research investment professionals. They should not only use consumer sites like yelp.com, but they should also use professional sites like www.finra.org/brokercheck, or www.sec.gov/investor/brokers.htm, www.corp.ca.gov/about/adviser.asp to see if the professional has any complaints. The sites also provide consumers lists of questions to ask and documents to ask for.
The one thing they should really do is research on how investment professionals are compensated so they understand what they will be charged. Investment professionals need to be compensated just like anyone else, but we have different business models and you should make sure you work with someone who fits your needs.

4) What sets you apart from other financial planners?

To dovetail on that question, I think one thing that sets me apart is my business model. I'm a Certified Financial Planner (CFP) and Registered Investment Advisor (RIA) with the State of California. The CFP part means that I have had to go through a university program specializing in financial planning, pass a rigorous test (similar to the Bar exam) and meet experience requirements to carry that designation. I must also adhere to very high ethical standards set forth by the CFP Board. Personally, it also means that I focus on someone's entire financial situation, not just their investments. I work with lots of clients and never do any investment work – I help them create a plan to get out of debt, create a plan to help them save for their first home or help them understand the financial implications of getting married or going back to grad school.
The RIA part means that I am not affiliated with a broker/dealer and do not earn investment commissions. This means the only fee I receive is what the client pays me. Many of my clients choose me because of this. They want to know I'm not recommending an investment that I'll earn a 10% commission on. If I recommend an investment, it's because I believe it is the best alternative for their specific situation.
Lastly, I charge an hourly rate for advice. Its pretty straightforward and I'm really up front about my fees. I don't have any investment minimums or require that I manage client's money. People come to see me for advice and I provide it for a fee. Pretty simple.

5) Just for fun: what's your favorite part of a wedding?

The reception! Ok, I do like the ceremony as well when you can see how in love and full of hope and dreams they are – very sweet. But its fun to go to the reception where everyone can just have a good time and lose a bit of the formality and really celebrate the couple and their new life together. Doesn't have to be fancy at all – just good friends, family and a good time.
Julie can be reached at julie@astifinancial.com or (510) 558-8557. Her website is astifinancial.com.